Boat Storage
Find Boat Storage Near You
As a boat owner, you know how fun it can be to take it out on the water and take on the waves as they come at you. Boats are not only used for fun but also for relaxation and a means to catch food. But what happens when you need to keep your boat somewhere?
When you own a boat, you need to know where you can and will store it. There are no parking spaces for boats out on the water and you cannot just pull up to an empty space and leave your boat there for the night.
Whether you need to find somewhere to keep your boat because you are heading out of town, winter is coming up, or you just need somewhere to keep it, you are in the right place.
Below, we will talk more about why someone may need to store a boat, some of the available options, and answer some questions you may have about boat storage.
What is Boat Storage?
Boat storage is a place where you can keep your boat safely and legally. There are designated boat storage areas and as we mentioned above, you cannot just leave your boat tied up anywhere.
You may be wondering why someone may need to store their boat and for how long. The truth is, you may need to store your boat for a week or two or you may need to store it indefinitely. It happens and the unexpected can take the driver's seat quickly and leave you in need of long-term storage.
Some of the many reasons why you may need boat storage include an illness or surgery that places you on bed rest, vacation, winter, or a busy schedule.
Boat Storage Options
When it comes to boat storage options, you have many of them. The type of storage you choose will depend on how long you plan to store your boat and the reason you plan to store it.
Many people choose to keep their boat at the local marina, but this option becomes expensive QUICKLY, which means it is not a feasible option for most.
You could store your boat at home, but this means that you will need to put in a lot of effort to maintain it, make sure it meets codes for the area, especially if you live in an home owner's association run neighborhood, protect it, and be willing to part with the space it will take up.
Since the two methods above are not always ideal, you are in luck. There are four other options for boat storage and one of these options is sure to fit in your budget and meet your needs. Let's look at those options.
Boat Storage Units
One of the easiest and cheapest ways to store your boat is to rent out a boat storage unit for it. This type of unit will keep your boat protected while it is not in the water. You will find that most boat storage units are extremely affordable and much less pricey than the marina.
Many people choose boat storage units because they are plentiful, and you can often secure a unit for yourself down by the water, so you do not have to go far when you are ready to take your boat out.
The biggest downside to a boat storage unit is that if you have a large boat, it may not be able to fit in a unit. Typically, you will need a minimum of a 10x15 unit to house your boat and some boats will require a 10x30 unit. Keep in mind that the size of the unit is width x length, so if your boat is longer or wider than the size of the unit, it won't fit. Also, most storage units are about 8 to 10 feet in height, which means if your boat is taller than this, you will need to explore other options.
Outdoor Boat Storage
We mentioned above that your boat must be a certain size to fit in a storage unit. If your boat is too big for a unit, then you may find that outdoor boat storage is a better option for you. Some facilities do have large parking lots or spaces that allow you to park your boat outdoors. You may be able to keep the boat on its trailer too.
One of the biggest downsides to this type of storage is that the boat is outdoors, and the storage is nothing more than a parking space for the boat. If you are not too keen on this idea, you may want to look for a storage facility that has a covered outdoor parking area.
Your best bet to find these types of storage options is to head down near the water as this is where most of them operate due to convenience.
Dry Stack or Stack Storage
Another common way to store your boat is through either a dry stack option or stack storage. A dry stack option is where your boat is stored on a lift above the water and this is typically done at a local marina. This is a good option for short-term storage and not long-term storage as it is expensive.
One of the biggest downsides to a dry stack is that your boat is exposed to the elements and may even become damaged if there is a serious or major storm.
An alternative is to store your boat using a stack storage option. In this instance, your boat is placed on a rack with other boats inside of a storage unit. Your boat is kept out of the elements and is better protected than the traditional dry stack option. This is a cheaper alternative to dry stack as well.
One of the biggest downsides to the stack storage option is that it is a time-consuming process to remove the boat from the rack as it takes a forklift to do so. This type of storage is ideal for longer periods.
Indoor Boat Storage
Indoor boat storage is the last option available and this type of indoor storage is different than the first indoor storage we talked about. This indoor option is designed for larger boats that will not fit in a traditional storage unit.
Typically, you will find that these storage units are large warehouses that allow you to store your boat and even trailer inside. Other people also keep their boats inside with yours and you will have a designated area for your boat. This option allows you to keep your boat stored safely and out of the elements of the weather, which is nice if you live in an area where there is a lot of rain or adverse weather.
Jet Ski Storage Options
A jet ski is like a boat in that it cannot just be left out on the water and it must be placed somewhere while it is not in use. If you do not plan to use your jet ski for some time, it is wise to invest in storage space for it.
You will find that storing your jet ski is like storing a boat, except, the jet ski is much smaller in size which means you can find smaller units easily.
A self-storage unit size of 10x10 or 10x15 is enough to fit your jet ski comfortably, even with the trailer.
Amenities You Should Look for in a Storage Facility
Your boat is an investment and you do not want that investment to be damaged or stolen while it is being stored. Before you settle on a storage unit or storage space for your boat, you should tour the facility and find out what amenities it offers.
Below, we will talk about some of the best amenities a boat storage facility can have and the ones you want them to have as well.
1. Security
Security is important, and you want to know your boat is protected. When you think about a boat storage facility, choose one that has good security. The facility you decide on should have video surveillance, audio surveillance, and cameras that record throughout.
2. Alarms
Not all facilities offer alarms, but some do. If you can find a facility that offers alarms on the storage units, you definitely want to do business with them.
3. Gated Access
Gated access is a must. You should not leave your boat at a facility that has open access to anyone. You want to make sure, at minimum, there is a gate that stops anyone from gaining access.
4. Code Access
This goes along with the gated access. You want to make sure the storage facility requires a unique code from everyone who enters. This way, no one can gain access without a code and some facilities even track what codes are used and when.
5. Proper Lighting
It should come as no surprise that the storage facility you choose should have proper lighting. This way, you can see at night and others can be seen on the cameras too. Lighting helps deter criminals and your boat will be safer if it is in a well-lit area.
Preparing Your Boat for Storage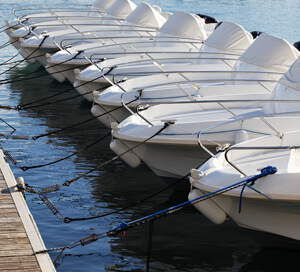 Before we talk about how to prepare your boat for storage, it is important to mention that there are some storage facilities that do offer maintenance services for your boat. These facilities will clean and secure your boat for you. Of course, this type of service will cost extra, but may be worth it to you.
Prior to storing your boat, you want to make sure that you take the time to clean the boat. Hose it down and remove any salt water that may be on it. You never want to leave water in the boat as it can lead to mold on the seats and the salt can eat away at the paint.
You should make sure that your gas tank is topped off and add a fuel stabilizer to the fuel. You want to avoid storing the boat with only half a tank of fuel or no fuel as condensation may form in the tank and this can lead to rust and other problems.
If you do not plan to use the boat for a while, you should remove the battery and change the oil. If it is boat season and you plan to use the boat soon after you store it, you do not need to worry about disconnecting the battery or changing the oil.
Your boat should always be in good mechanical condition when you store it. If any repairs are needed, they should be made prior to storing the boat.
Whether you plan to store your boat inside or outside, you should make sure you purchase a cover for the boat. The cover should fit snugly but allow air flow to prevent moisture build up and mildew.
Storing Your Boat Trailer
If your boat is on a trailer, you will likely want to store the trailer as well. Preparing your boat is extremely important and critical and the way you store your boat trailer matters too.
To store your boat trailer, you will want to go around and check the tire pressure on each tire. If the tires are low, you should fill them up to their max psi. from there, do check the lug nuts and ensure they are tight.
While the facility you choose to store at may have security measures in place, if you plan to store your boat outside, do invest in an outboard motor lock and use it. You can also cover the tires to prevent cracking and sun damage.
Helpful Tips about Storing Your Boat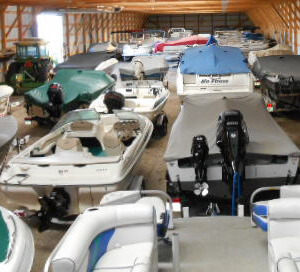 Prior to storing your boat, there are some mechanical repairs and maintenance you will want to perform. If you are not mechanically inclined or you do not know how to perform the maintenance, do hire someone to do it for you.
The engine will need to be checked to make sure that it is not wobbly or loose. If it is, you will need to have repairs made to ensure there are no further issues.
The propeller shaft will need to be lubricated and you will need to flush the system. This can be tricky, so you should only perform the flush if you are confident enough to do so.
Frequently Asked Boat Storage Questions
Below, you will find some of our most commonly asked and answered questions.
Does the boat need to be registered and insured in my name?
Yes. It is preferable that the boat you want to store is registered and insured in your name. If the boat is registered and insured in someone else's name, they will need to come into the storage facility and sign the appropriate paperwork.
Is it possible to store my boat for a month only?
Yes. There are several storage options for your boat. If you want to store it for a month only, you can. You will find that you can store a boat short-term or long-term depending on your needs.
If I have my boat in stack storage and I want to take it out on the water, how can I do so?
Since it is a laborious process to remove a boat from stack storage, you should not use this option unless you plan to store your boat for long period of time. With that said, you can use stack storage and still take your boat out on the water.
Should you want to take it out, call the facility and let them know. They will work with you to get the boat down in a timely manner.
What are some pros and cons of storing my boat at the marina?
If you are considering storing your boat at the marina, there are both pros and cons to this. For starters, the marina is on the water, so you do not have to go far to store it or to access it and go out for a day on the water. However, the biggest downside to storing your boat at the marina is that it is expensive, and this is because these spots are highly sought after and so convenient. Should you plan to store your boat at the marina, you may only want to for a short period.
Do I need to cover my boat if it is being stored outside?
You are not required to cover your boat if it is being stored outside but it is a good idea that you do. You should cover the boat because it can take on damage from the weather. For the best protection, a properly fitted cover is ideal and recommended.
Finding Boat Storage Nearby
Storing your boat is an important decision and one you do not want to take lightly. There are many things to consider as you hunt for a storage facility. As you do look for a place to store your boat, think about your needs and the size of your boat too. You can always tour the local storage facilities to see how other boats are stored and to see what amenities they offer.
To find boat storage near me, simply look up boat storage with your zip code or location. There are many self-storage facilities around and you are sure to come across the right one in your search. Since boat storage is important and you want your investment protected, take time to find a facility that meets your needs and one you feel comfortable with.