Find 5'x15' Storage Near You
Commonly Asked and Answered Questions about 5x15 Storage Units
StorageArea is proud to be able to offer its customers a wide range of storage solutions to include storage units in a variety of sizes. One of our most popular sizes is the 5x15 storage unit and is ideal for anyone who is looking to store some of their extra belongings. We know how hard it can be to find a place for everything, but you don't have to worry about that when you choose to rent a self-storage unit because you will always have space! Below, we invite you to peruse through some of our most commonly asked and answered questions about our 5x15 storage units. We believe these FAQs will assist you in deciding on which unit is right for you.
Should you still have questions, or you would like to learn more about our company, please do not hesitate to reach out to us!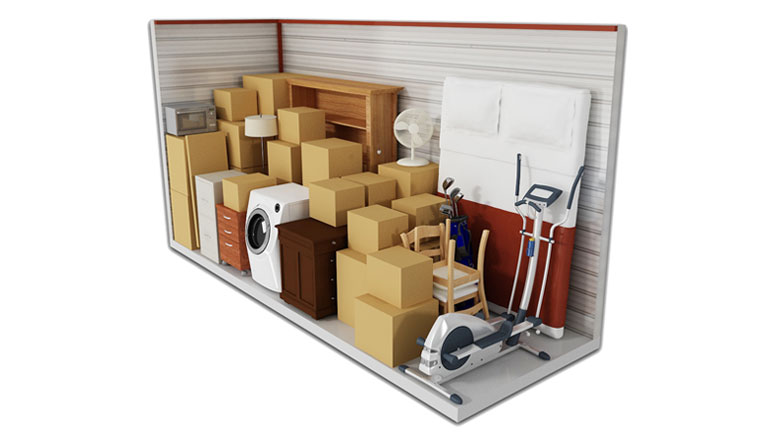 Learn More About 5x15 Storage Unit Types and Sizes
How big is a 5x15 storage unit?
Our 5x15 storage units are five feet in width and 15 feet in length, which provides you with a total of 75 square feet of room to store your items. Many of the units we offer come with a ceiling height of eight feet, which means you have about 600 cubic feet of space to store all of your items. This means that you can store horizontally and vertically to maximize your space.
Are your 5x15 units climate controlled or are they outdoors? Which is better?
We know that the needs of our customers are unique and because of that, we offer both options for our 5x15 units. Our climate-controlled 5x15 units are located indoors and are both temperature and humidity controlled for your convenience. These units are accessed by walking into our building and then locating your unit down the designated hallway. We also offer drive-up 5x15 units, which are located outside. While these units are not temperature or humidity controlled, they do offer you a lot of convenience as you can drive your vehicle right up to the door for easy loading and unloading.

Determining whether a climate controlled or drive-up 5x15 unit is best is a personal decision. Some people prefer their items to be stored indoors while others do not mind. It is recommended that you utilize an indoor unit if you have items that are sensitive to the outside temperature and humidity.
What can I fit into my 5x15 storage unit?
A 5x15 self-storage unit is comparable to the size of a large walk-in closet. You will find that with this size storage unit, you can enter it and walk around without feeling like you are cramped inside of it. Inside of your unit, you will find that you have a good amount of space and can fit about two rooms within the unit. Often, customers will rent a 5x15 unit when they are doing a home remodel or renovation as it allows them to safely store their items.

Some of the items that you can comfortably fit inside of your 5x15 unit include a washer, dryer, bedroom furniture, dining room furniture, luggage, seasonal items, all size mattresses, toys, TVs, and similar.
Are 5x15 storage units secure?
In general, yes they are. When thinking about the security of your 5x15 storage unit, there are other factors to consider as well. While the unit itself is secure, you will need to provide a lock on the door to help prevent any unwanted access. Some units come with an alarm, but that depends on the specific location you rent from and what their amenities are. The security of the facility location is important too and should be properly lit, offer access coded entry, and a perimeter fence.
Do you recommend a 5x15 self-storage unit if I plan to use up all the space inside?
A 5x15 self-storage unit is designed to provide you with enough room to store and access your items. If you plan to use up all the space within the unit, it is usually recommended that you rent a unit one size up from the one you are looking at to ensure you can safely and properly store all your items.

If you need assistance in deciding on the right size storage unit, please reach out to one of our customer service specialists.
Learn More About Pricing and Renting a 5x15 Storage Unit
How much will a 5x15 self-storage unit cost me?
The exact cost of your 5x15 storage unit will vary depending on several factors, which include the availability of the unit, location, and any amenities that you choose. For example, a climate-controlled unit will cost more to rent than a drive-up access unit. Since there are many variables to the price, there is no one price for all 5x15 storage units.

Finding and renting a 5x15 self-storage unit is easy and convenient, especially with our online reservation process. You can reserve the EXACT unit you want along with any amenities you want included. We have a hassle-free and no obligation process, which helps you save time.
What do I need to rent a storage unit?
Good question. To start the rental process, you will need a few things. First, you will need some type of identification such as an ID card or driver's license. You may be asked for proof of insurance, which if you have any questions about, you can reach out to our office for more information. You will need to have a card to put on file and a card or cash to secure your rental and make the first payment. Lastly, you will need a lock to secure your unit. If you do not have a lock, we sell locks in our office and you can purchase one while you are here.
Will I receive any discounts or specials on a 5x15 unit?
It is possible. Each storage facility has their own pricing and discounts that they offer, so you may find that you can save money on your 5x15 unit. Some of the most common forms of discounts and specials include months free when you lease, money off your unit monthly, and free moving truck rental when you sign up to rent a unit.

If you would like to learn more about our specials and discounts, do not hesitate to reach out and give us a call today.
Do I have to sign a long-term lease to rent a 5x15 self-storage unit?
Usually you do not. In fact, many renters only lease their storage unit for as long as they need it. Of course, you should speak with the facility location you plan to rent from, but most do not require any long-term contracts and you have month to month options to choose from.
Will I have 24-hour access to my storage unit?
Not all storage units offer 24-hour access to the unit itself, so it is important to rent a unit from a facility that does offer 24-hour access. Every storage location has different policies and practices, so it is best to ask them about access hours up front. Even if a storage facility does not offer 24-hour access, the access hours are usually quite generous with most facilities opening around 6:00 am and closing around 10:00 pm.